Fintech | GameDev | ICT | Lasers | Life science
Analysis of Lithuanian startups: the areas and sectors they operate in
2023/06/13
A comprehensive study of the Lithuanian startup sector shows that most startups operate in the areas of business software, financial technology and wellness. From now on, all key information on Lithuanian startups is available in the updated Lithuanian Startup Database.
A joint initiative of the Startup Lithuania (a division of the Innovation Agency Lithuania) and the startup association Unicorns Lithuania will now make it possible to track the growth of startups operating in Lithuania in real time – both individually, as each Lithuanian startup now has its own profile with key information on its activities, the number of investments attracted, and vacancies, and by filtering and analysing startups by the industry in which they operate and the business model they have.
According to the latest data, there are over 850 startups active in Lithuania today. Around two thirds of them follow the business-to-business (B2B) model, around one third follow the business-to-customer (B2C) model, and up to 5% offer products or services to the government and public sector (B2G).
Information on the investment environment for startups is based on data from Ventury.app. This year, a total of over EUR 100 million has already been invested in startups in the Baltic countries: EUR 47 million in Estonia, EUR 34 million in Lithuania and EUR 28 million in Latvia.
TOP 5 industries where Lithuanian startups are most active:
1. Business Software & HR, 25%.
2. Financial Technology (FinTech), 14%.
3. HealthTech, Life sciences & Wellness, 10%.
4. Advanced Manufacturing & Industry, 7%.
5. AdTech & Creative Tech, 6.5%.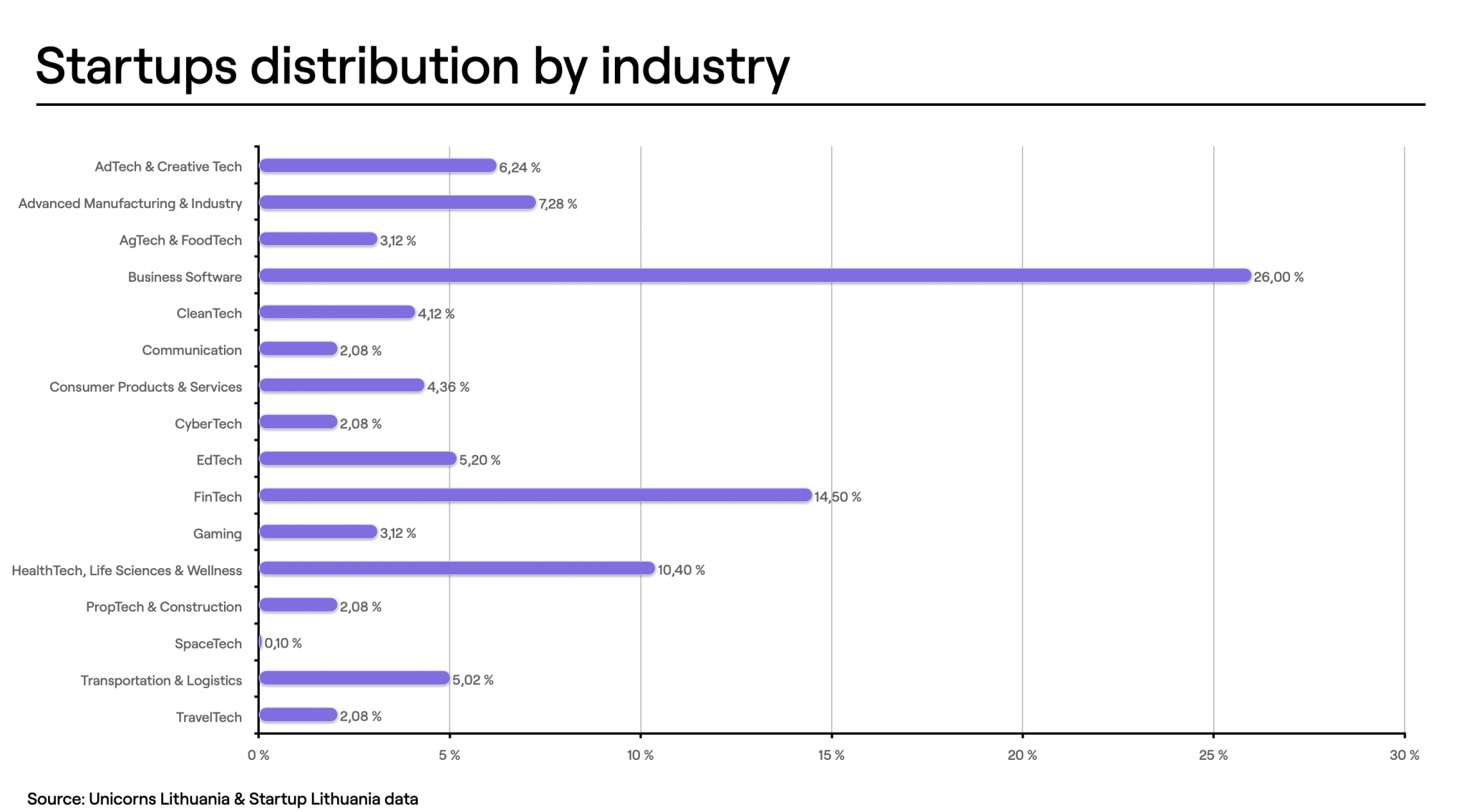 "By creating a unified and comprehensive database of Lithuanian startups, we aim to get to know our country's startups and to feel the pulse of the ever-growing startup ecosystem. Only by collecting such data can we qualitatively analyse the situation in the sector – it not only helps identify the problems and opportunities of the ecosystem, but also allows us to better present and represent the potential of the ecosystem abroad, and to be included in international rankings or reviews", says Roberta Rudokienė, Head of Startup Lithuania at Innovation Agency Lithuania.
Inga Langaitė, Head of Unicorns Lithuania, an association of startups, notes that the trends in Lithuania are not too different from those prevailing in the world, which shows the maturity of our country's startup ecosystem and confirms the potential for even stronger growth.
"Lithuanian startups emerge and operate in promising industries, focus on the global market, sustainable business model, top talent and transparency, and have high ambitions. We are on the right track, we just need a little time for new success stories to be born", says Inga Langaitė.
According to the data for Q1 2023, Lithuanian startups have already contributed EUR 83 million to the national budget, and the sector employs 17.5 thousand people with an average salary of EUR 3.7 thousand. Startups are currently looking for over 500 employees in such areas as IT, cybersecurity, product, sales, marketing, human resources, customer service and management.