Fintech | ICT | Lasers | Life science
Lithuania ― a favourable country for women in science EN
2022/04/27
Lithuania is a perfect place for women to join tech industries as the country is one of the fastest-growing centres of life sciences in Europe and has a vibrant ICT, financial technologies, video game, and laser sectors. The start-up community, which has already exceeded one thousand companies, attracts talents from all over the world to innovate and think about solutions that can contribute to a global change for the better in many spheres, ranging from gene editing to solving circular economy challenges.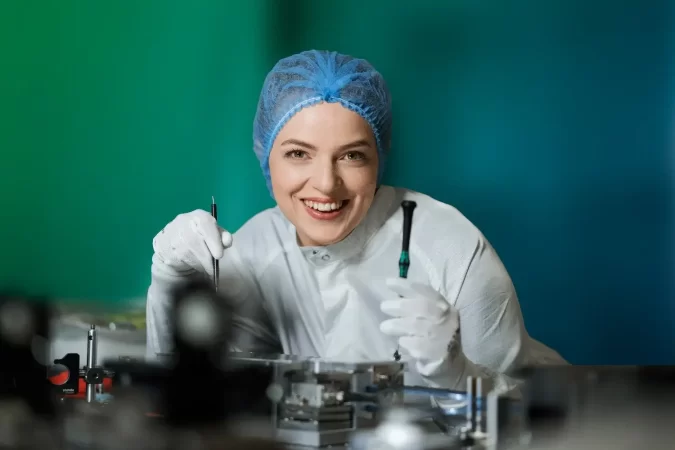 The recent ranking by the Organisation for Economic Co-operation and Development (OECD) placed Lithuania second among the OECD countries with 49% of women in science, technology, and innovation. This and other rankings prove that women in Lithuania play an active role in science and tech sectors.
Lithuania has set an ambitious goal to become a life sciences trendsetter in the region, with the sector generating 5% of the country's GDP, by 2030. Boosted by world-leading biotechnology research and strong educational institutions that supply businesses with top-notch talent, the sector is accelerating faster than almost anywhere else in Europe. Growing by a record 87% in 2020, Lithuania's robust life sciences ecosystem, which includes both established players and up-and-coming start-ups, contributes an impressive 2.5% to the GDP of Lithuania.
Female scientists of the Lithuanian life sciences sector have gained international recognition. Dr. Urtė Neniškytė, who focuses on mechanisms that shape our brains and may be linked to neurodevelopment and neuropsychiatric diseases such as autism and schizophrenia, was named one of the world's 15 most promising female scientists by the L`Oréal Foundation and UNESCO in 2019. She previously held a L'Oreal-UNESCO 'Women in Science' fellowship.
In 2020 researchers from the Vilnius University Life Sciences Centre, Rima Budvytytė and Dominyka Dapkutė were announced as the winners of the L'Oréal Baltic Programme 'For Women in Science'. The programme encourages young talented scientists to continue their research and honours their contribution to social progress.
The sector is represented by other famous and devoted scientists: Dr. Aurelija Žvirblienė, Prof. Dr. Sonata Jarmalaitė, Prof. Dr. Vaiva Lesauskaitė, Prof. Edita Sužiedelienė, Dr. Vilmantė Borutaitė, Dr. Kristina Daniūnaitė, Dr. Eglė Lastauskienė, Dr. Inga Matijošytė, Dr. Jurgita Skiecevičienė, and Dr. Ieva Plikusienė, to name but a few. All of them have made a weighty contribution to the scientific progress in the life sciences sector.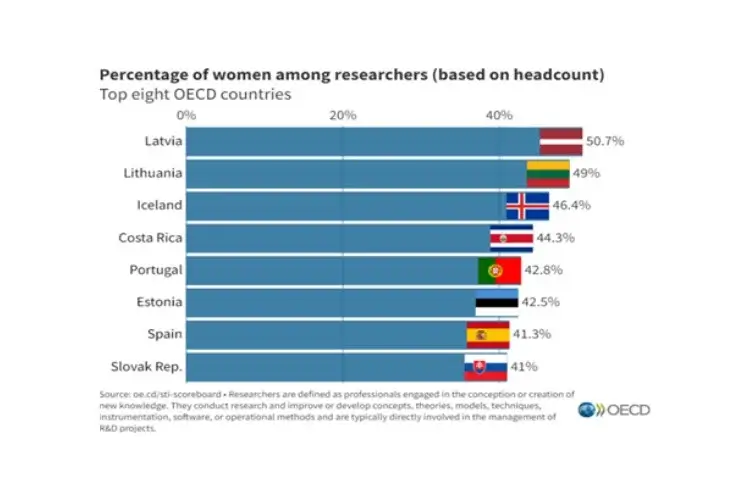 According to Eurostat, in 2018 women in Lithuania represented 57.9% of doctoral graduates, a proportion which is above the European average of 48.1%. This indicates that women are better represented than men amongst doctoral graduates in Lithuania. Overall, the proportion of women among doctoral graduates in Lithuania was ranked as the highest in the EU-27 in 2018. Women in Lithuania are better represented in some decision-making and leadership positions in the field of research compared to the rest of the EU. In 2019, 42.8% of board members were women, a proportion exceeding the European average of 31.1%.
Although the gender pay gap in Lithuania was 12.1% in 2020 the pay gap was the lowest in the education field.
More and more women in Lithuania are interested in technology and engineering. Some of them start considering this career path at school, whereas others tend to change their ongoing careers due to better prospects. To encourage women to choose tech sectors in Lithuania a special mentorship program WOMEN GO TECH was launched in 2017. In this program, dedicated solely for women, TECH (ICT and engineering sectors) professionals share their knowledge and experience with selected female mentees. Through personal meetings with a mentor, a mentee can find answers to possible career questions and discover their professional potential.
The OECD Scorebord contains over 60 indicators on women and gender across different dimensions of science, technology, and innovation. These include statistics on women working as researchers, inventors, and doctorate holders. According to the Scoreboard, Lithuania ranks second after Latvia among the OECD countries with 49% of women in science, based on headcount. Latvia comes first at 50.7%, whereas Estonia ranks sixth at 42.5%.
For more statistics on policies for gender in science, technology, and innovation on theOECD science, technology, and innovation scoreboard website.