ICT | Lasers
Lithuanians develop the world's most powerful integrated data collection platform
2023/08/22
Data collection and processing is a fundamental part of many businesses, yet in areas such as energy and civil engineering it is still a slow and under-automated process. Vilnius-based Lithuanian company AISPECO is developing an artificial intelligence-based solution that has enabled its customers in Spain to take pictures of their local grid infrastructure faster than by manually operating a camera.
The speed is expected to increase tenfold once the solution is finalised. The Smart Falcon autonomous data collection platform has a wide range of applications and has attracted interest from businesses in Western Europe and the US. The company was able to realise the ambitious EUR 1.7 million project by taking advantage of the Norway Grants programme within the framework of the Norwegian Financial Mechanism and an investment of EUR 900 000.
"I congratulate the Lithuanian team and I am proud that ambitious ideas are being implemented in our country and that the innovative solutions being developed will be used on international markets. At the same time, we are making Lithuania known globally as a country of technological talents and creating even more opportunities for Lithuania," says Aušrinė Armonaitė, Minister of Economy and Innovation.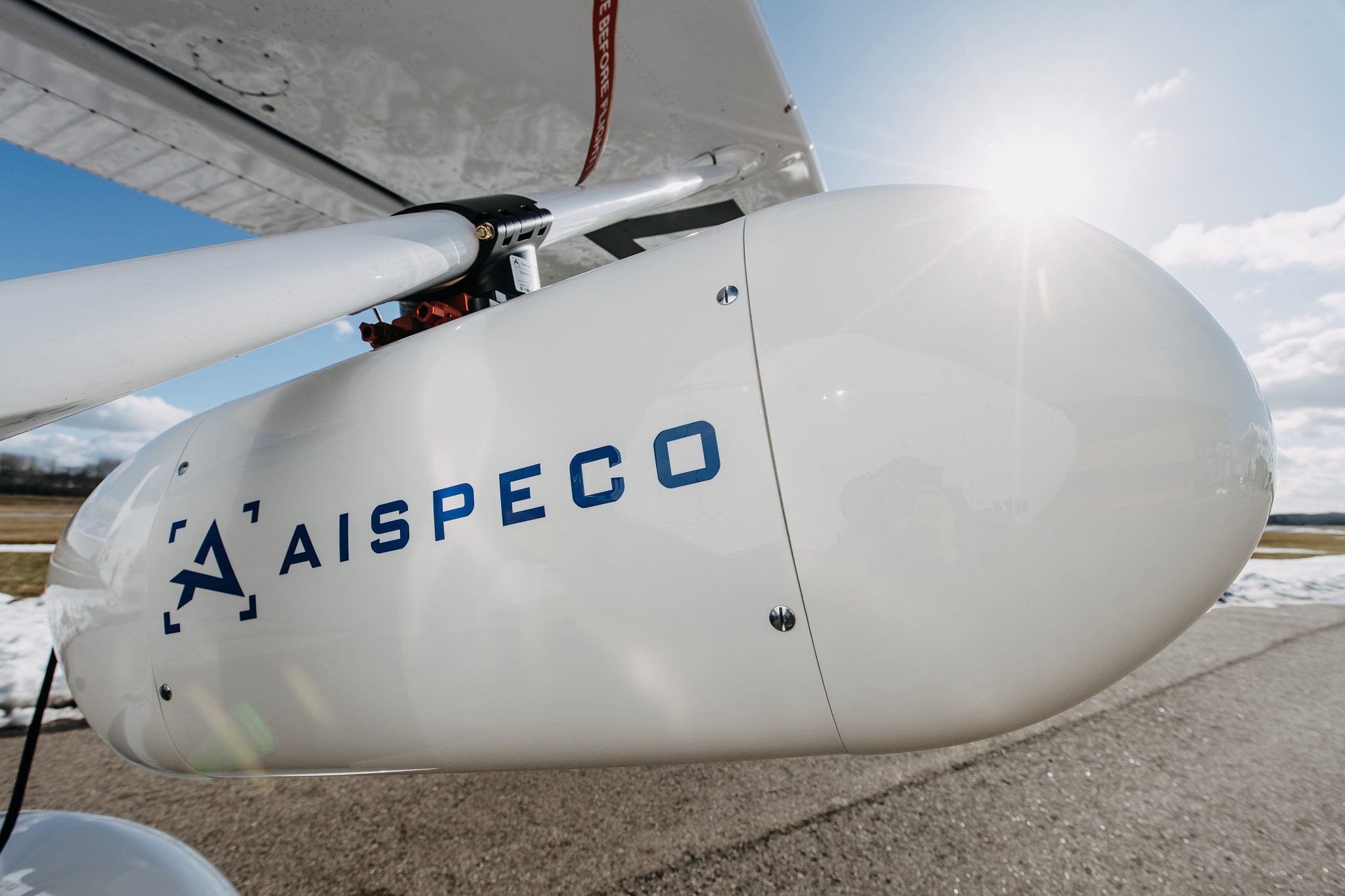 Automating data collection
"The customers of our company work with electricity grids in Spain, Italy, Belgium and the United Kingdom. We have identified a number of problems in our cooperation, the major one being that the electricity grid operator often does not know exactly where its infrastructure is located. In many cases, the facilities may be 70–500 m or more away from the location marked on the drawings. This deviation is not a problem for a person on the ground or in a helicopter – they can quickly see where the electricity poles are located. However, automating the process makes it almost impossible to work with such errors – during the flight the camera cannot automatically take pictures of objects that are not where they are marked," says Mantas Vaskela, CEO of AISPECO.
Together with its Norwegian partner eSmart Systems, the company is developing the Smart Falcon solution, a system that uses artificial intelligence (AI) and two cameras attached to a helicopter or other fast-moving vehicle.
"The front camera, controlled by AI, will locate and identify the target, i.e. the object being photographed. The system transfers the information to the rear camera, which, having the precise coordinates, is able to aim mechanically to take an extremely detailed and perfectly focused photo. The result is as good as a photo taken by climbing an electricity pole, and the speed is already ten times faster than taking a photo manually. The individual components of the solution are currently being tested. In Spain, our customers have been flying 6–10 hours a day, and one winter season was enough to cover the entire Canary Islands of around 5000 square kilometres," says Mr Vaskela.
An invaluable partnership in Norway
"Our partners in Norway asked a lot of important questions that helped us to get ahead of the problems. For example, we quickly identified a potential problem where the AI would focus on the ground behind an electricity pole instead of the pole, resulting in a less than ideal photo. In addition, the partners had a wealth of knowledge about AI, so we could exert targeted effort and set up the AI faster," comments Mr Vaskela.
The project is now in its last but one phase, when all the individually tested elements of the system have to be combined into a single product and lab-tested this year. Once this is done, it will move on to the final phase of field-testing. The project is scheduled to be completed by 30 April 2024, but there are a number of challenges to overcome before then.
"There were a lot of difficulties in trying to understand the specifics of aviation. When designing the equipment to be mounted on a plane or helicopter, we had to understand what materials we can use, whether we can print parts with 3D printers, what screws are allowed, what the regulation for auxiliaries is. We contacted five companies and got five different answers, and it took us a while trying to understand what is a recommendation and what is a requirement. However, we now know what we need to do, we have gathered the parts and we are certifying the products," adds Mr Vaskela.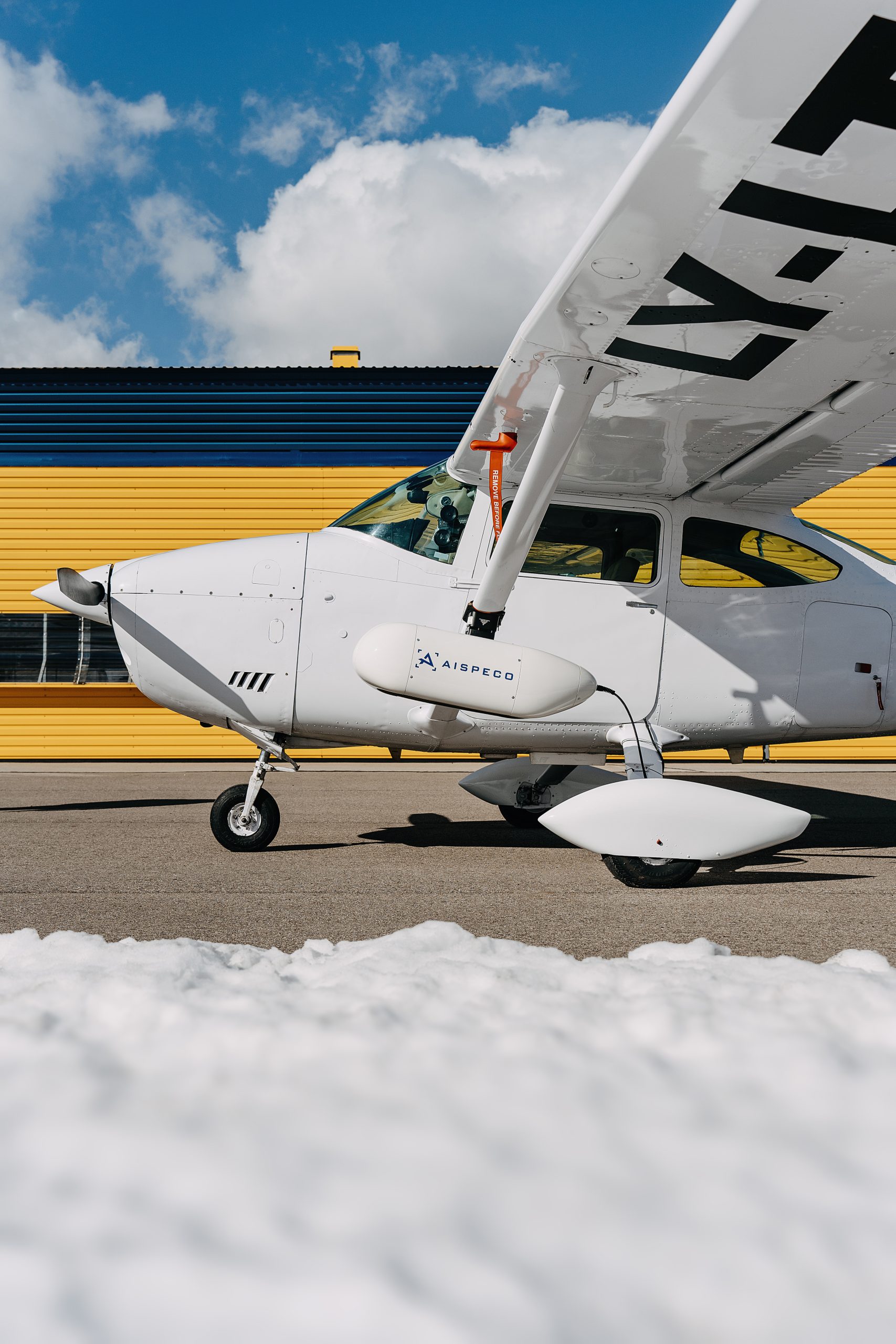 The integrated data collection platform developed by AISPECO and its partners is the most powerful on the market and has a wide range of applications, which is why businesses from Western Europe and the USA are interested in it.
"We are already talking to a company in Germany that will use our platform for gas pipeline maintenance and is developing its own AI solution. A monitoring company from the UK is also planning to use our services. Overall, the platform has the potential for future applications in utilities, forestry, urban mapping, mining, civil engineering, aviation and many other industries around the world. It reduces redundant costs and makes work more efficient, saving a lot of valuable time in data collection," concludes Mr Vaskela.
We have much to be happy about
"Across Lithuania, companies are implementing 18 ambitious projects and are about to sign another 12 contracts. Investments in ongoing and future projects amount to EUR 12.5 million. Each project is based on in-depth research, and the products developed are valuable not only in Lithuania but also on international markets. In addition, by working with partners in Norway, our entrepreneurs have been provided with a unique opportunity to exchange experience with experts in various fields and unlock their business potential," says Monika Kemežytė-Vaitiekūnienė, Norway Grants Programme Manager at the Innovation Agency.
The Norway Grants programme aims to contribute to the creation of higher added value and sustainable economic growth, to promote the competitiveness of Lithuanian companies and to encourage bilateral cooperation between Lithuanian and Norwegian companies. The 2014–2021 programme investments were targeted at green industry innovation and ICT.
The Innovation Agency provides free advice on starting and growing a business and on choosing the right financing instruments.