Fintech | ICT | Lasers | Life science
Vilnius Among Europe's Top Cities of the Future for the Second Year in a Row
2023/02/17
Vilnius Among Europe's Top Cities of the Future for the Second Year in a Row
The experts assessed the Lithuanian capital's year-on-year progress, innovativeness and adaptability to market conditions and awarded the city in all categories: Economic Potential, Business Friendliness, FDI strategy, and Human Capital.
Vilnius – a European city recognised in most categories
In a ranking published on 16 February, experts from fDi Intelligence, a specialist division of the Financial Times, assessed the economic, financial and business potential of European cities and regions. The experts sought to identify the most promising areas for business investment, economic development and business expansion. A total of 370 cities were ranked in several categories: Economic Potential, Business Friendliness, FDI strategy, and Human Capital. Vilnius performed better than last year in three categories, rising from 3rd to 2nd place in the Economic Potential category, from 6th to 3rd in the Business Friendliness category, and from 3rd to 2nd in the Human Capital category, with a second place in the FDI Strategy category and a second place in the overall Cities of the Future category among mid-sized European cities.
"Considering how many awards we've won this year, it's safe to say we have lots to be proud of! This huge success is thanks to the hard-working people of our city, who draw inspiration from some of Gediminas' main principles – openness to the world and the future, and great respect for hard-working and creative people. This is only the beginning; let's keep it going! said Vilnius Mayor Remigijus Šimašius.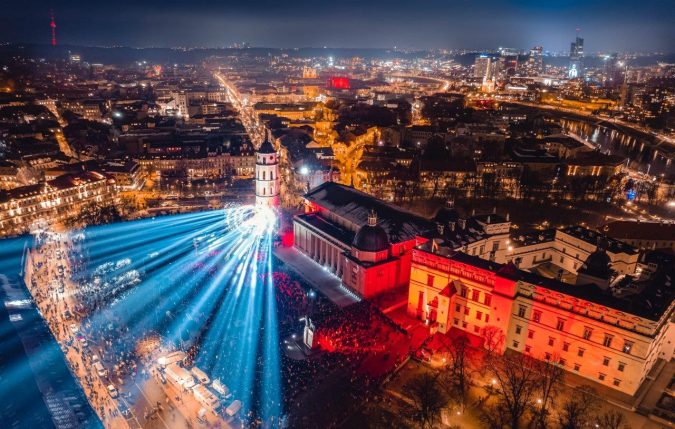 Vilnius 700 hundred years celebration. Gabriel Khiterer
"It's nice to see that despite all the geopolitical and economic challenges, Vilnius is an attractive city for world-class companies expanding their operations in our city. Being among the most promising cities in Europe is a great recognition and an obligation to achieve our goals. The initiatives Vilnius is taking now are like a bridge to a safer, better and more sustainable future. We are pleased to be able to contribute to attracting investment from high-tech companies and creating jobs, which brings huge benefits to the economy of the whole Northern European region. We hope that the coming years will be marked by the growth for new start-ups, turning Vilnius into the innovative high-tech capital of Europe," says Inga Romanovskienė, head of Go Vilnius, the Official Business and Tourism Development Agency of the City of Vilnius.
High-tech companies unite under one umbrella
Although the European economy faced many new challenges in 2022, Vilnius, like every year, is increasingly establishing itself at the top of the continent's most promising cities. The capital's intensive development of the high-tech ecosystem and the successful cooperation between business and research institutions create a unique environment for growth. Ms Romanovskienė is pleased that the projects implemented in the city are contributing to the development of high-tech companies.
One of the latest initiatives of Go Vilnius – is the Vilnius TechFusion, which brings together the capital's most advanced high-tech sectors and their employees. The aim of the ecosystem is to show the city's leadership in high-tech innovation to the world and attract potential investors and talented employees from all over the world.
"What is created in Vilnius today is what we will need in future. Biotechnology, lasers, financial technology, ICT and gaming industries create many jobs and contribute significantly to the Lithuanian budget. The innovative technologies developed by the city's companies attract investors from all over the world every year, leading to the expansion of companies, exports to new markets and a growing number of new jobs. Last year alone, Lithuanian laser companies grew by 15-20%, and fintech companies employed about 7000 employees," points out Ms Romanovskienė.
According to the head of Go Vilnius, innovative Vilnius high-tech companies collaborate with each other to launch new products, solve emerging crises, and when an opportunity arises, they establish new start-ups that present innovations never seen before. "By providing the high-tech sector with opportunities for realization, Vilnius creates an exceptional business symbiosis, thus becoming one of the most promising European cities of the future".
Making it easier for businesses based in Lithuania to attract employees from abroad
For 700 years, Vilnius has been known as a multicultural centre, attracting people from all over Europe. The friendly way of Vilnius residents and their penchant for innovation create an environment favourable not only for business start-ups, but also for welcoming foreigners. Vilnius helps technology companies attract highly skilled workers, integrates them into city life, advises them on the country's tax system and helps them to set up their businesses.
One such institution, International House Vilnius, helps newly arrived foreigners to solve problems they face. It offers advice on tax, migration, national insurance and starting a business to new residents as soon as they arrive. Lectures, seminars and integration evenings are also organised to help foreigners integrate into the community and feel like real residents of Vilnius.
The Befriend Vilnius programme, created in the wake of the war in Ukraine, also reflects the multi-ethnic nature of Vilnius. Starting out as an integration programme for war refugees, it has since been opened up to the entire foreign community in the capital, who can get to know and build friendships with Vilnius locals. Go Vilnius also financially helps organise international conferences held in the capital and compensates companies for the relocation of employees from foreign countries.
With the outbreak of the war in Ukraine and the increase in cyber-attacks by Russia, Lithuania's second unicorn Nord Security is providing free cyber-security support to all start-ups in the city. This way, start-ups get all the help they need to integrate their employees and ensure security against hacking into databases vital to technology companies.
Vilnius attractive for foreign investors and creating new jobs
The business-friendly environment, easy integration of foreigners, the city's economic potential, high level support and care provided by institutions and Vilnius' prospects attracts well-known foreign high-tech innovation companies to set up business in the Lithuanian capital. It has been announced that AmerisourceBergen, one of the world's largest healthcare companies, will open a business centre in Vilnius employing 700 people. The information technology sector in Vilnius is welcoming the arrival of the well-known German company GOD, which will create jobs in Lithuania for programmers, engineers and specialists in various fields.
The forever young city of Vilnius is a good place to live and work, as evidenced by the foreign high-tech innovation companies that are expanding and creating new jobs in the city. The military-themed game developer Wargaming established its office in Vilnius in 2021 and relocated more than 1,000 employees. Shift4, a USA based company, has announced that it will expand its only European office in Vilnius and employ 70 new employees. Nortal, a high-tech Estonian company, has decided to enlarge its technology centre in Lithuania and double its workforce by recruiting 150 more people. Elijus Čivilis, Managing Director of Invest Lithuania, says that although regional challenges have forced to look for new solutions, it was still possible to attract new foreign investments.
During this period of uncertainty, companies are choosing to optimise processes and are cautious in selecting countries to invest int. It's great to see that Lithuanian cities are following Vilnius' lead as a front-runner in the future cities categories. Our flexibility, ability to adapt to market needs and openness to solutions are just some of our great strengths building Lithuania as a perfect destination for the future global players. says Mr Čivilis.
The awards ceremony, which will honour Europe's Cities and Regions of the Future, will take place in March at MIPIM, the world's largest real estate exhibition, in Cannes.