ICT
Vilnius – Champions of shared mobility
2022/12/19
Vilnius is promoting car owning alternatives: car, bike and scooter sharing. Revamping public transport and expanding infrastructure.
Although, few would argue that the future belongs to driverless cars. Soon most of the cars will not be owned anymore, but before we live in the future let's dig into the most important numbers when it comes to Lithuania's capital Vilnius.
Here are few facts about Vilnius:
We have the largest car-sharing density among the EU capitals with over 2400 vehicles per 1M inhabitants.
From 2012 to 2021 – citizens shared from 0 to 1.5 million car trips yearly.
The capital of one of the fastest-growing economies in Europe, contributing over
40% of the country's GDP and over 70% of FDI.
A fintech capital with the biggest number of companies in Europe.
Benefits of car-sharing
There are many benefits of car sharing, the main one is no hassle of owning the car. Did you know that currently each household owns 1.5 cars on average, second one not being necessary? One shared car equals 12 private ones. Local service penetration rate is 19% and growing, while industry-standard is 2.7%.
Another one is comfort, when the car is a few steps away from your door. Pick it up, drive and drop off anywhere. As simple as that.
It also saves space .One average car needs 3-4 parking spots reserved (near home, office, and shop) while sitting parked 96% of the time. A shared car only needs 1, and is used much more efficiently, on average 35% of the time.
Most importantly, it saves the planet. In 2020, shared cars saved over 2,200 tonnes of CO2.
Car-sharing encourages citizens to avoid unnecessary car trips. Simultaneously supporting travel by public transport, bicycle and scooter sharing, or simply walking.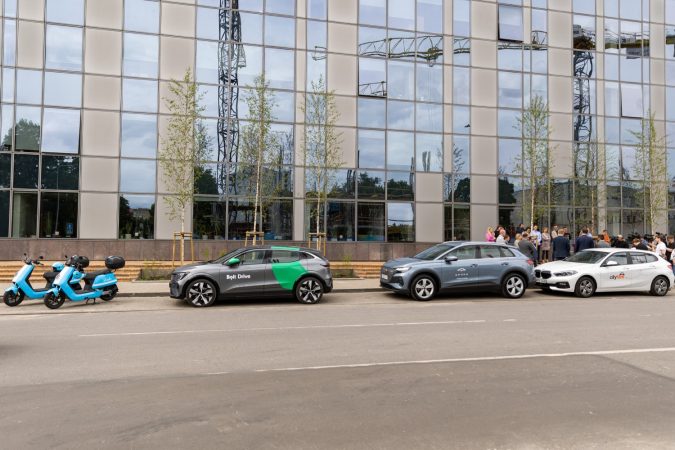 How we achieved the car-sharing boom
Firstly, we have few useful apps. The city developed the "m.Parking" app to collect data and payments. Integrating private parking providers in this system. Thus, creating an open-data driven parking solution. Also, "Trafi" – mobile application, enabled by open data, allows users to choose the optimal solution for traveling in the city and compare different transport options in real-time.
For more information about how Vilnius is planning to reduce traffic and endorse sustainable urban traveling you can read here.