GameDev
Decisions that Grew Profits by 15 Times, and the Team to Over 100 People: the Success Story of Lithuanian Game Developer TutoTOONS
2023/10/30
Mantas Kavaliauskas never worked for anyone else. During his summer vacation before 12th grade, he started a company known around the world as TutoTOONS – a studio developing games and entertainment tech solutions for kids that has been in business for 15 years and that many Lithuanian companies can learn from.
"There's no question what to recommend to a young person looking for a job. The only career path I see is working at a startup. Why would anyone work for a corporate, where you get boring old tech and irrelevant products, when we've got such a strong startup community in Lithuania? Just come and make it happen. Most larger startups don't worry about the money – they pass on ideas because there's no one to implement them," Mantas explains, adding that he's facing the same dilemma.
Today TutoTOONS, with offices in Vilnius and Kaunas, is one of the largest kids' mobile game developers in the world, with over 1 billion downloads and more than 45 million active monthly users. The journey that led to such heights certainly raises some eyebrows – the team developed hundreds of games, the company went through a complete transformation at least three times, before it was sold with an ambitious vision for the future.
"I don't regret it, but while everyone thinks selling your startup is like climbing Mt. Everest, I remember that day as the saddest in my life. You come to a realisation that everything that you did in your professional life is suddenly not yours anymore. You wake up one day having lost it all. No champagne, just tears in my eyes," Mantas smirks before diving into a conversation with his colleague and shareholder Modestas Povilaitis. They touch upon the steps that brought them to that day, the mistakes they made along the way, and the future perspectives they see for themselves and for the Lithuanian startup sector.
– One of the latest TutoTOONS news is about you hitting it big in 2021. In just 9 months, you grew your revenue by 4 times to 6.3M EUR, and profit by 15 times to 3.7M EUR. How are you doing today? What were last year's figures?
Mantas: Our business received a pandemic boost, as kids would play a lot of games stuck at home. That had a direct effect on our sales and other metrics. The market conditions are more difficult now, we don't grow by as much, but the figures remain at a comparable level. In 2022, we had around 10.5M in revenue and 5.5M in profit. However, to keep our results at this level, you've got to think and do a lot.
– In 2021, you also became a part of the Swedish investor Aonic. There haven't been that many exits in Lithuania. What made you consider this move? How did it go?

Mantas: We had worked without investments for 13 years, growing only on the basis of our profits. In hindsight, growth was slow but stable. The pandemic boosted that, and investors noticed our products and figures. Those people worked in banking and other sectors where they managed large amounts of money. And then they decided to start something completely new – a gaming fund. This isn't a widespread model around the world, and we were drawn in by their startup-like approach. We were the first entrants, and now the fun unites 8 more companies that had demonstrated stellar individual results. These companies run the gamut of the gaming world. The fund is building a unified ecosystem involving game developers, publishers and game marketers that collaborate and help each other grow.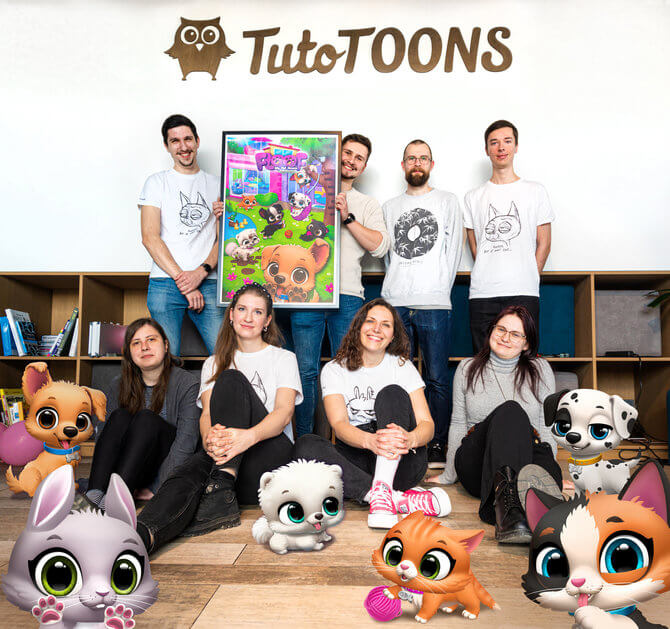 – Your main audience is kids aged 3 to 12. What's the most important thing to know when building for this audience? Do you see any trends that differentiate this generation?
Modestas: On the one hand, we grew together with our audience. On the other hand, many of our shareholders have become parents over the years, so we see the situation from a different angle. I'd say that kids today are individualists. Both parents and the society at large reward individualism. Social media has an immense impact – everyone got used to short, fast-paced formats that induce the fast release of dopamine, after which no one has enough patience to read a book. In our approach, we're creating a space where the child receives the content and stays connected to it. For example, you get an egg, take care of it, and then play with the animal that hatches out of the egg. By the standards of today, that's long-form content, which teaches kids to maintain their attention for a longer period of time.
Mantas: We've known for a long time that you can't make assumptions when working with kids. When testing new characters, my colleagues and I sometimes put our bets on which one's going to be the most popular. It shows how much faith we put into intuition in opinion. All our business decisions are made based on tests, concrete figures and results.
– Are your business processes geared towards kids or their parents?

Modestas: We focus on kids as much as possible. If a kid likes a game, they'll convince their parents. However, our main source of revenue (around 75%) is advertising. And that comes after a lot of efforts into driving sales. Alongside our ads, we have extremely strict quality assurance standards. It's not enough for the ads to be greenlit by members of responsible institutions – we have colleagues whose job is to double check the ads making sure they're suitable for children. Our games are developed and published in a way that adheres to all children's data protection standards, and we have international certificates to prove it. We seek to achieve the highest quality and we also face different restrictions. For example, it's completely prohibited to collect data about minors online. That's why our ads cannot be targeted, and we're limited to the kinds of ad platforms we can use and ways we can reach our target audience.
– Considering how difficult this market is, why did you start TutoTOONS in the first place? What's your origin story? How did you get where you are today?

Mantas: I was into programming starting from an early age, and making games was my hobby. In my last year of school I realised that it could be monetized – Lithuanian schools didn't have any educational games. We made some, burned them on CDs and started selling them. We thought that's where the value lies. It all worked, and there was a period when at least 3 of our products were used by almost every primary school. However, we quickly understood that the market is in fact rather small, and it differs from country to country (we got really burned in Poland). All of that hindered growth. We learned the bitter taste of old school business and realised that it wasn't our cup of tea. We wanted to sell our product because it was good, not because we knew the right people.
As smartphones surged to popularity, we moved our games to mobile. I graduated from university and decided to go to Spain for at least a year. This might not look like the best move coming from a co-founder but that move shaped the TutoTOONS we have today. One day, in Spain, I took part in a hackathon-like event. There, I introduced TutoTOONS as a tool for building games that are, first and foremost, geared towards teachers. It was a winning idea, as I was approached by a French man from Barcelona – now a shareholder of TutoTOONS – who raised his hand and said he wanted to work with us.
Over the next 5 years, we got to a point where hundreds of people were using our tool to make games. And yet, growth was stagnant. While developing the tool, we'd hire people to spend 8 hours per day making games with it and, in the process, figure out how it functions and how it should be improved. We tried selling a few of them, and managed to grow our audience, until one day we realised that our tool's underlying technology has become obsolete, and that updating it would be more expensive than simply continuing to use it. We burned it onto an external drive and hung it up on a wall – for the past 4 years, we've been operating as a children's game development and entertainment technology studio.
– Listening to you, it all sounds so easy. But surely there've been moments when you felt discouraged? How did you manage to maintain not only a cool head, but also your business and friendship?

Modestas: Today it feels like we could do anything with our team and succeed at it. I can think of two situations where I thought it was all over. The first one was parting ways with a large customer from Israel. I remember putting up on a wall the amount of money we had to make in the next 3-6 months or else shut down the company. We'd just finished developing our tool – during a hackathon on a weekend, as Mantas had mentioned – but we needed the money right then and there. That was the closest we ever got to bankruptcy. The second rocky situation was Google closing down our account with hundreds of games on it. The global practice at the time was that if your account had been deleted, you couldn't restore it, as the process was simply too long and complicated – there were hundreds of such cases. Although we did manage to figure it out in the end, it was an eye- opening moment for us, as we realised that people were the most important factor. When they don't give in to stress and do go the extra mile, a solution is always found, sooner or later.
– What has shaped you the most as a person? What kind of environment gave rise to your way of thinking? Have you wanted to be an entrepreneur since childhood?
Mantas: I have, yes, for there was an example in the family – my dad studied electronics and later started the telecommunications company Mikrovisata. It seemed obvious to me that I had to found a business, too. And to this day I think that if you want something more out of your life, business is the only way. I mean, sure, it's kinda scary. But the alternative is making peace with either never having certain things or never being able to afford them. For instance, one of my biggest priorities was making sure I had time off for myself and total freedom in terms of choosing which days to work on and when to go on a holiday. My life wasn't difficult financially, money never motivated me because I was never deprived in that way. I knew you had to make some, but it just wasn't my No. 1 priority. This may also be why we avoided raising funds for so long – maybe I was afraid of being accountable to someone, being limited in some way, as if I was looking for a CEO to lord it over me. I wouldn't repeat that today. That being said, I never had a regular job. Within a year of enrolling in programming studies, I had my own company. Freshman year is the best time to build a startup, as you don't yet have a family or other obligations, your needs and expenses are minimal, and you have lots of free time. Later, things get more complicated. The main reason why I don't want to found another startup is that I know how much time it takes. I'd say that, having a team, some extra funds, and the knowledge available today, building a TutoTOONS-level business would take around 5 years, rather than 13.
Modestas: I joined the team as an employee. To be frank, as a kid I liked to draw. Later we even dabbled in game modding with some friends. Then I enrolled in graphic communication engineering studies. The reality of it was much more prosaic than the name might suggest. Nevertheless, I once noticed a job ad for an animator, learned to use the required software overnight and went in for a test, which ended up landing me the job. After working together for 4 years, when Mantas decided to build a startup, I became a shareholder of TutoTOONS.
– From your perspective today, what is the secret of TutoTOONS' success? What principles secured it? What, if anything, would you do differently?
Mantas: You just have to go for it. For instance, everyone's talking about AI now. My advice is: do something – anything – in that area. Then, after 3 or so years of trial and error, you'll know what's what. Coming up with a product is hard, but only through practice is it possible to grasp the opportunities that lie before you. Most importantly – test everything, as this will reduce the likelihood of failure, and look for consumers who would use, and pay for, your product.
Modestas: I think what unites us is the desire to create. Our team is growing and it may seem that, perhaps, the time has come to shift away from products – we're just not about that. I sometimes hear about startups guided purely by financial incentives. "We'll build something, inflate its value, and then sell it". You can play these financial games, to be sure, but what's the point? In reality, I think, the point is to bring something new to the world, something people will actually want to use. To this day, I remember the moment when we launched our product, going from idea to reality. Truth be told, at the time I didn't even care if anyone was going to buy it – the fact of the launch itself was something beyond crazy.
Mantas: I should probably also note that we started our business when there weren't any startups yet. The same goes for many other things we take for granted now, such as foosball, work from home, parties, and the possibility of creating something real out of that. The works of our illustrators today reach hundreds of times more people than those of any other Lithuanian artist or photographer. And they're not mere cogs or tools by which some big shot attains power. When such people come together, they learn from each other and work on joint projects, which result in world-class products. They do, of course, also switch jobs and start their own companies, but that enables the Lithuanian IT community to keep growing. I can't wait for more people like that to enter the market.
– Your company has over 100 employees now. What are they like? Have you found the X-factor that distinguishes the best of them? How do you attract and retain talent?
Mantas: Our team is all we have. Now, other companies may claim they have a certain knowledge or product. We, on the other hand, are constantly building new products, and as for knowledge – it's something that resides in people's heads, not something you can place on a table like an object. We know that the success we're talking about here comes down to people and to providing them with an opportunity to create, even if that means making mistakes, whether individual or collective, because that's how we learn, discover, and grow. Experimentation and testing is the recipe for success both when it comes to companies and to teams. We want the latter to be independent and to make their own decisions.
Modestas: We're looking for people capable of reacting to problems with autonomous decision-making, of taking up a position, and of assuming responsibility for the team and its performance. The skills one has are increasingly losing their importance in favour of the ability to cultivate a work environment conducive to high performance.
Mantas: For instance, we're eager to hire people who tried, but failed to build a startup, because they're usually not intimidated by problems and capable of finding solutions to them by exploring different options. Sometimes it just comes down to Googling; sometimes they do make mistakes. But in the end, they get it done without any hand-holding. As for our current team, we have an amazing head of HR – she's the favourite person on the team whom we trust completely and have given the right of veto to.
– Do you play video games yourselves?
Mantas: Not very often, considering the market we're in. But we do have people on the team who are up to date on the latest games – sometimes they even manage to squeeze in a little gaming session during lunch break. I often tell myself I no longer have the time for it, yet whenever I sit down to play – whether with my kid or when I'm on a plane – I still take notice of how game systems are progressing, how they're being monetised, etc. Personally, though, I prefer water sports and travelling. The former helps me unwind mentally, while the latter provides an opportunity to think through questions of strategy in a fundamental way. Doing so is a rare treat if you're a CEO, as normally you're swamped with daily minutiae and meetings. So when I'm on a holiday, I finally have time to really think about work.
Modestas: I experience games through my kid – by watching him play I'm better able to grasp the latent possibilities they contain. My real hobby, though, is Brazilian Jiu-Jitsu.
– What's needed for the number of Lithuanian startups and unicorns to multiply?
Mantas: Only role models can really be teachers. For instance, I see entrepreneurship not as a skill, but as an inner belief in my ability to create. When I attend conferences, talk to people, and listen to their stories, I draw motivation from their experiences and their passion. When someone tells you their story, it's easier to believe that you, too, can do it. Truth be told, building a business is quite easy. You just have to actually do it. Founding a startup today is easier than ever – you can develop, test, and sell a product with close to zero outside investment. For this reason, I only have one piece of advice to young people – head straight to the startup world. Start with hackathons. The Lithuanian startup community isn't very big yet, which means you'll meet maybe 50 people who are engaged and quickly figure out who's doing what, and what the underlying principles are. If you take an interest, say, in AI – you'll be able to find your niche and develop a product in no time. You can, for instance, start with B2B sales of AI solutions – after all, selling accounting, business management, web development, and CRM services used to be all the rage. People tend to focus excessively on failure and loss, but sometimes you just have to get moving.
– What does the future have in store for TutoTOONS? Which direction are you consciously steering the company in?
Mantas: We'd like to penetrate deeper into the children's entertainment market, not just games. From VR – which isn't yet suitable for kids, but we believe this will change – to animated shorts or even feature films. We also have the goal of developing at least one hugely popular global brand, such as Lego or Barbie. The market is big, yet its dynamics are still quite traditional. There's a real need for change, and we have not only lots of energy, but also a team and the backing of a fund – these are all factors working strongly in our favour.
This interview was prepared by Vilnius TechFusion partner Unicorns.lt. Find the full story in Lithuanian here: Sprendimai, pelną išauginę 15 kartų, o komandą – iki per 100 darbuotojų: žaidimų studijos iš Lietuvos "TutoTOONS" sėkmės istorija | Unicorns