Fintech | ICT | Lasers | Life science
News About Vilnius Startups Will Spread Even Further: a Museum Dedicated to Them Has Been Opened
2021/07/14
The French have the Wine Museum, the Italians have the National Museum of Pasta, the Chinese have the Rose Museum, and now the Lithuanians have the Startup Museum. Opened last month, the Startup Museum tells the stories of businesses born in Vilnius that have grown to become world-famous international companies.
"At first glance, startup and museum are two words that hardly match. But this is actually an original way to showcase how Vilnius is an open, comfortable and progressive city perfect for the creation and expansion of business. At the same time, we will be able to appreciate one of the most important elements driving Vilnius forward – our active, creative, ambitious and brave people who are the true global ambassadors of our city. This museum is an encouraging reminder to everyone that success requires far more than just a good idea and investment; it also demands courage, perseverance and a solid team," says Mayor of Vilnius Remigijus Šimašius.
The Startup Museum is a joint initiative of Go Vilnius and the Talent Garden Vilnius, a new co-working space that houses the new museum. The museum brings together 12 striking stories of companies under one roof, with each company describing the different stages of its operations. Each year, the museum will be supplemented with four highly notable startups. At the same time, the museum will provide information about the startup ecosystem in Vilnius along with presentations, awards and other events aimed at promising startups.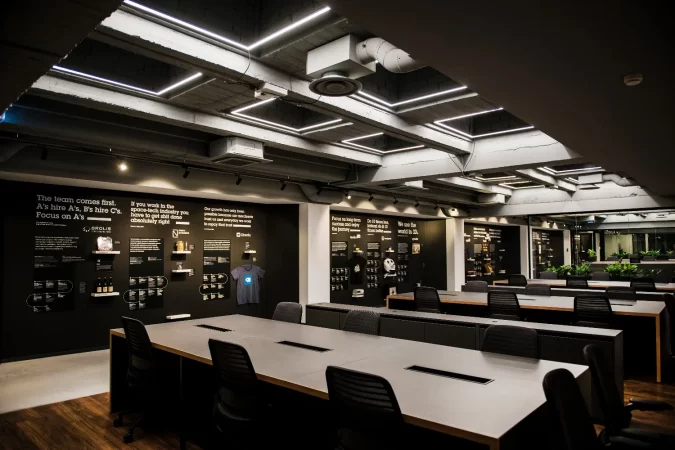 Twelve striking stories
Inga Romanovskienė, General Manager of Go Vilnius, says that selecting twelve stories was a difficult task, as there are many successful startups from Vilnius. The museum selected the companies from a wide range of areas – from mobility to space research – to show that Vilnius is an ideal city for a diverse range of innovators.
Visitors to the Startup Museum now have access to stories about Vinted, Trafi, Deeper, Bored Panda, Nanoavionics, Tesonet, Oberlo, Pixelmator, CityBee, Brolis Semiconductors, MailerLite and CGTrader. For each of these stories, the companies themselves chose several items that symbolise their most memorable moments and breaking points, or things that highlight their internal company cultures. Thus, the museum's exhibits – ranging from the cans of nuts and cigars that symbolise Nanoavionics' successful launch of rockets into space, to a panda suit relating the story of a particularly memorable employee application at Bored Panda – depict the path every company in the museum has followed in order to get to where they are now.
Incredible stubbornness
For example, the cyber security company Tesonet tells the story of two IT-crazy nerds who met online and were looking for a common business idea. Since 1999, Tomas Okmanas and Eimantas Sabaliauskas have tried to implement as many as 34 failed projects. However, the pair did not give up – they continued patiently searching for "the" idea while working their usual jobs, until 2013 when they realised that they didn't have the right cybersecurity solution for their own products. This moment of enlightenment was the start of a successful business that grew to 800 employees in six years. Four planes were needed to transport the entire Tesonet team to their most recent workation abroad, which is one of the company's traditions.
A hobby that went further
The Trafi story began in 2007 with the website Marsrutai.lt, which was intended as a platform to search for public transport timetables and routes. The project immediately won the Login Award as the Best Online Project of the Year. It took five years for Marsrutai.lt to transform into Trafi, and two years later, the company's business developers flew straight from a Swiss ski resort, wearing ski suits, to finalise their first contract with Google.
From Vilnius to the world
According to the General Manager of Go Vilnius, each of the startup stories is an inspiring example of stubbornness, determination and the incredible growth that followed. For example, MailerLite, which develops e-mail marketing solutions, works with specialists from 16 countries and already has 700,000 customers worldwide. The first Lithuanian space technology company UAB NanoAvionics, which was founded in 2014, now employs 80 people in three locations worldwide and currently manufactures 15 satellites. The e-commerce service startup Oberlo was a real game-changer for the famous Canadian e-commerce startup, Shopify, because millions of goods have since been imported through Shopify via Oberlo. The CGTrader 3D online marketplace created by a Lithuanian 3D designer was the first one of its kind, designed to be convenient for other designers, and is now the largest in the world with millions of users and new offices in Tel Aviv and New York. Deeper's smart sonars designed and manufactured in Lithuania are currently sold in over 50 countries worldwide, from Japan and Australia, to Canada and South Africa.
One of the most successful startup stories undoubtedly revolves around Vinted, Lithuania's first unicorn. The company, which aims to turn second-hand clothing into the first choice for consumers around the world, now has around 23 million users in 11 markets. Vinted employs more than 300 people in Vilnius, Berlin, Prague, and Warsaw.
CityBee, which started operations in 2012 with 50 cars, now has 1,000 of them in Lithuania, while their electric scooter sharing service is available in all three Baltic countries, as well as Warsaw and Madrid.
Bored Panda, a well-known art and pop culture e-magazine and platform, is also proud of its growing numbers – 10 million subscribers and 200 million views per month. The company, which now has one of the largest film studios in the country, started as a website created by one person – Tomas Banišauskas.
There are also several stories in the museum demonstrating the successful joint work of siblings. Pixelmator, founded by the Dailidės brothers, makes ultra-handy photo-correction software for Macs, iPhones and iPads, while the Vizbarai brothers founded Brolis Semiconductors, a company that produces infrared laser products. Both companies and their products have received significant international recognition.
All these stories can be found at the Startup Museum established by the city's tourism and business agency Go Vilnius and the Talent Garden Vilnius co-working space. Located at Vilniaus g. 33, the museum is open to the public and admission is free. To arrange a visit to the museum, you should register via e-mail at [email protected].
The Talent Garden Vilnius space was established by the real estate investment company INVL Baltic Real Estate, which represents this network under a franchise agreement. Founded in Italy in 2011, the Talent Garden network operates in 20 European cities in eight countries and has more than 4,500 creative and digital professionals working in more than 25 locations.