Fintech | ICT | Lasers | Life science
Startup Museum
2022/02/12
Vilnius Startup Museum is a unique space telling stories of the most prominent Vilnius startup ecosystem players.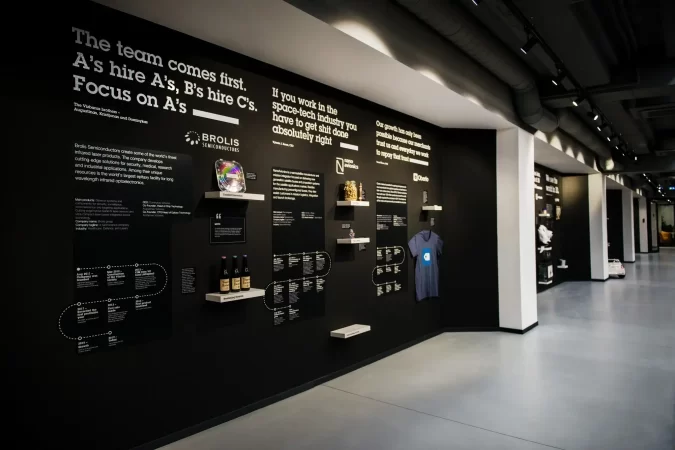 The Startup Museum is a joint initiative between Go Vilnius and the Talent Garden Vilnius, which houses the museum. Opened in 2019, the museum brings the city's most successful startups and their stories together under one roof.
The museum aims to inspire locals and tourists alike while celebrating the city's entrepreneurial spirit. It features the untold stories of startups that have not only found their way to international success but have also contributed to improving the city's business culture.
The 2021 Startup Museum Exhibition
The Vilnius Startup Museum invited everyone to take a look back at 2021, celebrate the ecosystem's achievements, and award the best of the best. This year's new exhibition features the winners of the annual Startup Museum Awards, which were given to the most prominent local startups in six categories:
Relocation of the Year
Rising Star
Best Emerging Technology
Ecosystem Hero
Public's Favorite
Startup of the Year
Wrap Up of 2021 & Startup Museum Awards
Now in its third year, the annual Vilnius Startup Museum Awards were given to innovative startups who are making waves and turning heads in the sectors they hail from. The event brought the entire local startup ecosystem together to celebrate successes and reflect on how the startup scene in Vilnius has evolved over the past year.
Organised by Talent Garden Vilnius, Startup Lithuania and Go Vilnius, the event took a deep-dive into the local startup scene's achievements and challenges in 2021, as well as future expectations for the coming year.
In addition to handing out the Startup Museum Awards, the event served to celebrate the one-year anniversary of Talent Garden Vilnius, which houses the museum.
All these stories can be found at the Startup Museum established by the city's tourism and business agency Go Vilnius and the Talent Garden Vilnius co-working space.
Located at Vilniaus g. 33, the museum is open to the public and admission is free.
To arrange a visit to the museum, you should register via e-mail at [email protected].