Fintech | ICT | Lasers | Life science
Vilnius Unleashed Unicorns to City Streets: Capital Celebrates Rapidly-Evolving Startup Scene
2022/06/20
Vilnius celebrates the country's second unicorn and a booming multibillion-euro startup community by conceiving novel ways to motivate emerging and established businesses—a new technology campus and Unicorn bus stops.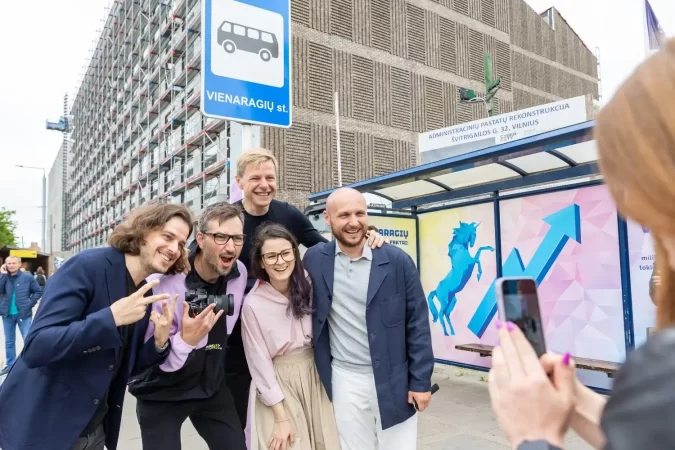 After Lithuania gained the second unicorn, Nord Security, this spring, Vilnius, the capital, is rapidly evolving into a point of attraction for new and established businesses. In light of the booming entrepreneurial environment and the expanding unicorn community, Vilnius is making certain adjustments to its urban layout.
New technology campus expected to boost the startup ecosystem
As one of the top 30 emerging startup ecosystems globally, the capital's startup scene, valued at 7B, currently encompasses 767 active startups. With around 16K specialists employed in the country's startup ecosystem, Vilnius is aiming to expand it by building a technology campus Cyber City, slated to become one of the capital's startup centers. It is located in an up-and-coming Uptown District, nestled between the Station District and the UNESCO-listed Old Town
The area has undergone several transformations over time—from a quiet residential district to an industrial site during the Soviet occupation. Now the Uptown District is blending both of its characteristic features—the residential and the industrial—and evolving into a modern hub with resident-friendly urban infrastructure and an attractive industrial base for emerging and established businesses.
The future startup center is built next to the office of Vinted, the largest platform in Europe for selling and purchasing second-hand clothing, which became Lithuania's first unicorn in 2019. The first Lithuanian unicorn operates in 15 global markets and unites over 50M users. Nord Security, a digital security provider, became a unicorn this year after raising a $100M investment and is also planning to relocate to the growing technology district.
Despite going international, the unicorns Vinted and Nord Security continue to fully operate in Vilnius and appreciate the city's efforts in supporting the emerging and established businesses, believing that the rapidly-developing technology sector has the potential to nurture new unicorns.
Unicorn bus stops—the city's way of motivating emerging businesses
In celebration of the growing startup community and its top performers, Vilnius has also presented its current and future unicorns with a gift from the city—Unicorn bus stops. The bus stops, located next to the future Cyber City and the office of Vinted, echo Vilnius's appreciation of its flourishing startup ecosystem and the drive to create a motivating environment for future unicorns.
"We hope the Unicorn bus stops will inspire the residents and the visitors to pursue their dreams in Vilnius because here, where two unicorns grew into billion-euro businesses through constant motivation, hustle, and application of skills, everything is possible," said Remigijus Šimašius, Mayor of Vilnius.
According to the startup association Unicorns Lithuania, the country aims to almost triple the startup ecosystem to 2,000 companies by 2025.