Life science
Vilnius' doctors are the first in Baltic states to apply innovative navigation systems to treat kidney and liver cancer
2023/08/14
Doctors at Vilnius University Hospital Santaros Clinics are the first in the Baltic states to perform kidney and liver cancer ablation (cancerous cell removal) procedure by using an innovative navigation system.
Dr. Donatas Jocius, an interventional radiologist at Radiology and Nuclear Medicine Center of Vilnius University Hospital Santaros Clinics, who performed the first procedures at the beginning of August, says that the benefits to the patient are indisputable—better results of minimally invasive therapy are achieved when treating tumors of various localizations (liver, kidney, pancreas, lung, bone). Also, fewer repeated biopsies and repeated therapeutic treatments are needed. "It is beneficial for the doctor performing the procedure as well—cancerous cells are removed more precisely and the doctor has more trust in treatment success," Dr. D. Jocius said.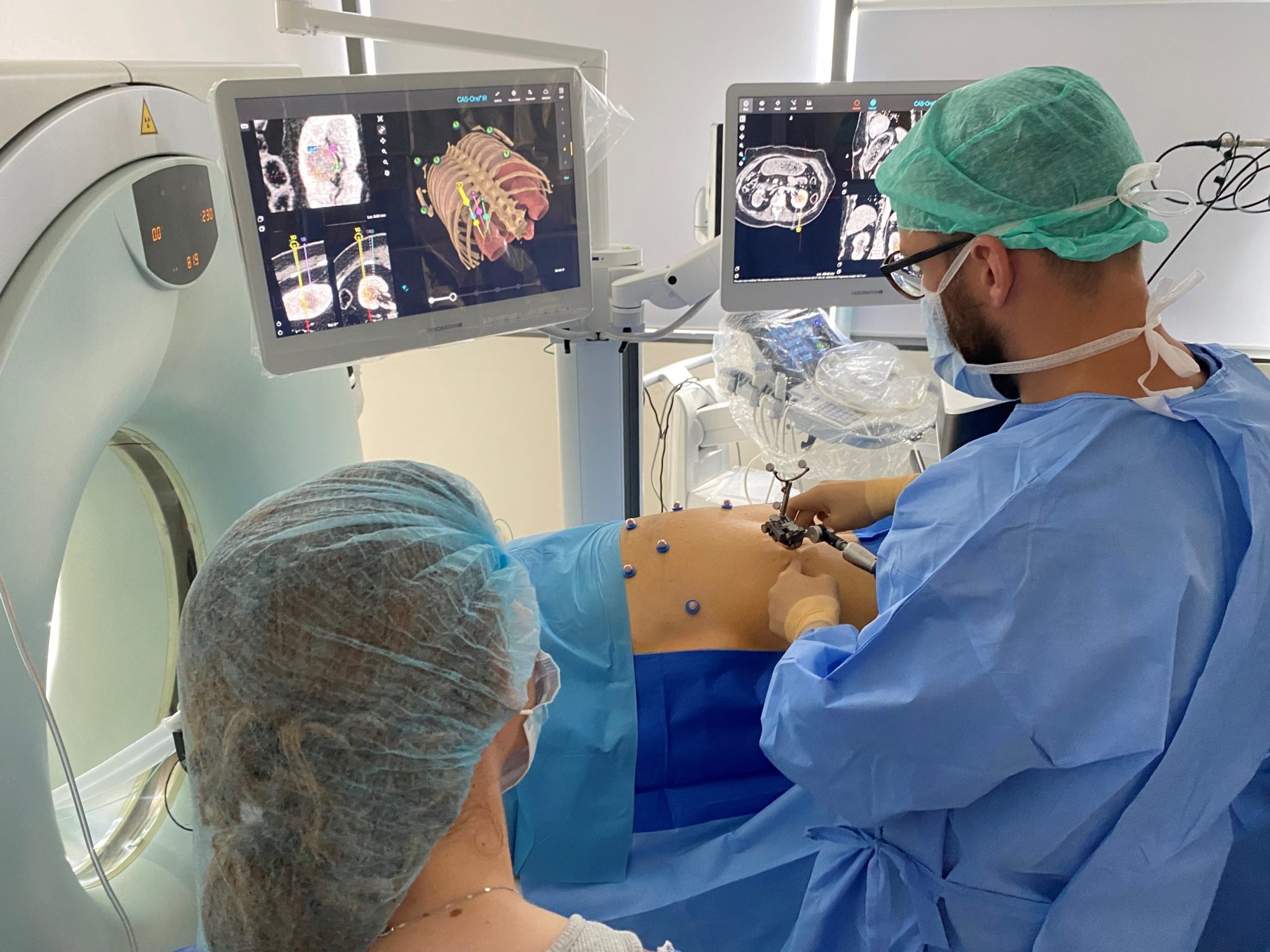 The interventional radiology diagnostics and therapeutic procedure spectrum performed at Vilnius University Hospital Santaros Clinics is continuously expanded through technological innovations.
Dr. Artūras Samuilis, radiologist and head of the Radiology and Nuclear Medicine Center says that the latest technologies and the ever-expanding specialists' experience offer opportunities to treat increasingly more complex cases of oncological illnesses.
"Innovative means improve treatment options, reduce the risk of complications and even mortality during the procedure, cut back on hospitalization time, preserve the organism much more, and enhance patient's life quality if compared to open surgeries of large extent. Doctors tend to apply interventional radiology procedures more frequently when treating various illnesses, oncological included. To plan and perform cancer treatment procedures and assess the treatment effect, the doctors need radiological imaging (ultrasound, computed tomography, magnetic resonance imaging, etc.), equipment for cancerous cell removal (ablation), and navigation. The latter reduces the risks caused by the human factor and allows for more precise destruction of the cancerous cells, the assessment of the treatment effect during the procedure, and, if needed, the correction of the course of the procedure so that the treatment effect is as successful as possible. This reduces the number of potential repeated therapeutic surgeries," Dr. A. Samuilis added.