Fintech | ICT | Lasers | Life science
Vilnius has once again been at the centre of attention at MIPIM
2023/03/16
Vilnius among most promising cities in Europe for the second year in a row
Vilnius has once again been at the centre of attention at MIPIM, the world's largest real estate exhibition in Cannes. Today at MIPIM the mayor of Vilnius, Remigijus Šimašius, received 10 awards in the medium-sized city category.
Vilnius took the most prizes in the medium-sized city category in the Financial Times investment experts fDi Intelligence's survey, which was organised by the business daily fDi Intelligence, and was awarded in the areas of economic potential, business-friendly environment, foreign investment strategy and human capital attraction. In all three categories, Vilnius performed better than last year.
"We really have a lot to be proud of in the fDi Intelligence Awards in terms of the number and scale of the awards. The success of Vilnius is built by its people and the respected Gediminas Code – openness to the world and the future, respect for working and creative people. Let's move forward!", said Vilnius Mayor Remigijus Šimašius.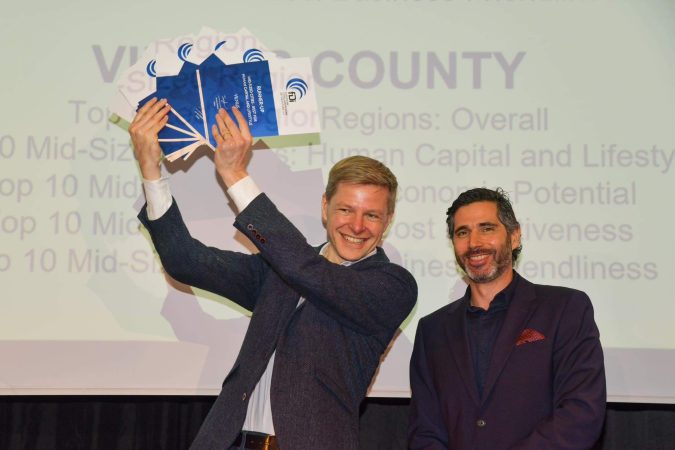 In the category of economic potential, Vilnius moved up from 3rd to 2nd place, in the category of business-friendly environment – from 6th to 3rd place, in the category of attracting human capital – from 3rd to 2nd place, and in the category of foreign direct investment attraction strategy, Vilnius remained 2nd this time. In the general category of medium-sized cities of the future, Vilnius came in 2nd place, with Zurich in first place.
"The fDi Intelligence ranking is based on the cities' progress over the past year in terms of innovation and adaptability to market conditions.
The intensive development of high-tech ecosystem and the successful cooperation between businesses and academia in the capital city create an exceptional environment for growth. The innovative technologies developed by Vilnius-based companies attract investors from all over the world, as companies expand, export to new markets, and create new jobs.
Moreover, Vilnius helps technological companies attract highly skilled talents, integrates them into the city life, advises them on the country's tax system, and helps them set up their businesses.
The business-friendly environment, easy integration of foreigners, the city's economic potential, the high level of institutional attention and a promising location of Vilnius attract world-renowned foreign high-tech innovation companies to set up their business in the capital of Lithuania.
One of the world's largest healthcare companies, AmerisourceBergen, has its operations in Vilnius. Game development giants Wargaming opened their office in Lithuania in 2021. US-based Shift4 announced its plans to expand its Vilnius office, the one and only in Europe. Estonian high-tech company Nortal has decided to expand its technological centre in Lithuania and double its workforce. GOD, a world-renowned German company, will join the IT sector.