Fintech | GameDev | ICT | Lasers | Life science
Tech Zity – the largest tech campus in Europe – to open in Vilnius in 2024
2023/06/26
Tech Zity is a €100 million project that will see the renovation of 20th century, Soviet-era sewing factories into an 'infrastructure-first' campus for 5,000 tech workers
Tech Zity announces a new €100 million infrastructure-first project which will create Europe's largest campus for the digital ecosystem, in Vilnius, Lithuania. Upon completion in late 2024, Tech Zity will house 5,000 digital ecosystem workers in one sprawling campus, in Vilnius' New Town – the former industrial site which sits across three adjacent streets.
The project is part-funded by Tech Zity's existing operations – with support from Mantas Mikuckas, the COO and founder of Vinted. Tech Zity remains in talks with a number of investment banks, family offices and institutional investors for additional funding.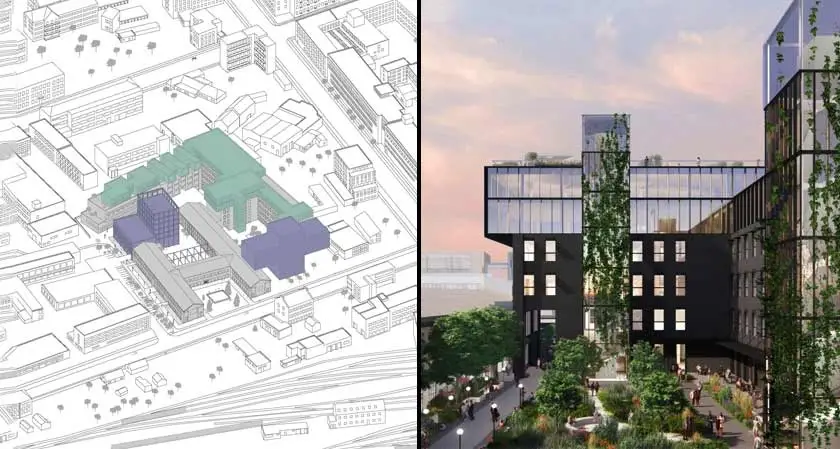 In addition to the 5,000 desks available in private spaces, Tech Zity will have extensive co-working and co-living spaces, a number of world-class events locations on-site, meeting room space, as well as restaurants, cafes and bars. As hybrid working becomes the norm, the office has become a place for socialization, collaboration, exchanging information and learning. To cater for this, the site will be open 24/7 – with a focus on becoming a night-time hub, cultural and educational venue, as well as a bespoke workplace campus.
Tech Zity will have a full range of meeting room space that any tech company may require – from phonebooths, to mid-sized meeting rooms, to boardrooms, through to auditoriums for all-hands events, and world-class event spaces capable of holding conferences and concerts.
At the heart of Tech Zity's offering is co-living spaces – which provides tech workers with close-to-site homes, both close to work and the city centre's extensive amenities and cultural hotspots. Tech Zity's co-living spaces will centre around community outside of work for the inhabitants – providing access to bars, sports facilities and more, all on-site.
Tech Zity's design ethos – paying homage to our industrial past
Paying homage to its industrial heritage, Tech Zity aims to maintain the original design ethos of the sewing factories it is renovating – maintaining high-lofted, expansive factory-like office floors – with ceiling heights of at least 7 metres across the site.
Tech Zity's wider ethos focusses on creating workspaces that workers are excited to return to post-pandemic – creating an ascetic ethos that helps them to focus on work and reconnected to the their core mission and values in a collaborate, expansive space. Intending to show-case best practice in office design, providing workers with a 'carrot' of wanting to go into the office – as opposed to the 'stick' of being forced back.
Factory parts and structural elements will be extensively used across site, to maintain and protect the building's identity and history. The building will absorb many elements of modern architectural design – including glass staircases, which will replace dated staircases currently on-site. Tech Zity intends to pay homage to the great renovation and restoration projects of the 21st and late 20th century – including the Tate Modern and Battersea Power Station projects, both located in London.
Throughout its development, Tech Zity has collaborated with the regions most promising, up-and-coming interior designers and artists, to build a world-class workplace, night-time hub, cultural and educational venue. This will continue post-launch, as a core founding ethos of the campus and the companies mission to support the ecosystem through world-class ascetic design in its workspaces.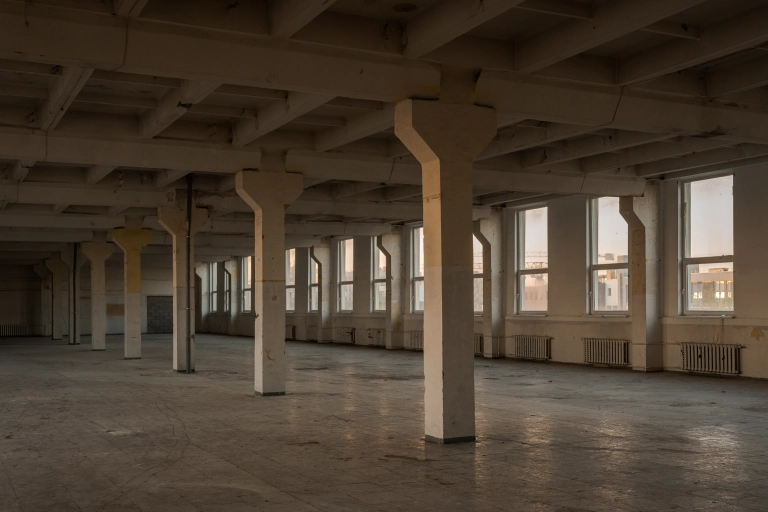 Why Europe's largest tech campus is needed for the city
Tech Zity has long been a focalpoint in the development of Vilnius' digital ecosystem, first opening bespoke office space for the tech sector in 2013. The firm currently manages 4 tech campuses across the city and region – including Tech Park, Tech Loft, Tech Art and Tech Spa, which house companies including Google, BoredPanda, and Kilo Health.
Tech Zity's footprint in the city currently stands at 20,000 square metres – but needs to rapidly expand to keep up with demand in the CEE's fastest growing tech hub. Between 2017-2022, Lithuania has grown its digital economy by 16.8x annually – with the ecosystem now valued at over €9.5 billion. Tech Zity's target square footage – taking into account the new campus and existing locations, as well as other projects, is 80,000 square metres.
The total volume of startups based in Vilnius has now reached 744. The last data shows arround 69,000 expats live in Vilnius now, with this number expected to rise annually, with many working across the country's digital sector. In total, around 51,000 workers in Vilnius TechFusion ecosystem (ICT, Lasers, Life Sciences, GameDev and Fintech) – a figure which is expected to double in the next 3 years.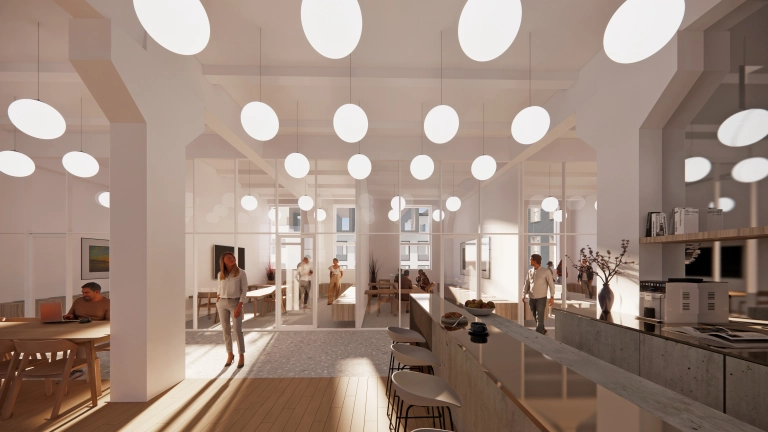 Sustainability at the core of Tech Zity
Tech Zity will have a strong focus on sustainable building practices, which will enable it to capture and save over 500 million tonnes of carbon throughout the development process.
Tech Zity has prioritised the renovation of existing industrial buildings – as opposed to the demolition of and building of new commercial spaces. Tech Zity's real-estate is built and developed not with a five-year lifespan in mind, but for longevity and use for decades to come.
The ex-industrial buildings that Tech Zity is renovating, if demolished, would release 55,000 tonnes of carbon via concrete removal alone. In addition to this, Tech Zity's development is also ensuring that limited new construction work takes place in the development of the 50,000 square metre campus. 70% of building work is based on renovation, with only 30% of campus space being built from the ground up.
Tech Zity's development sits alongside a host of major real estate projects taking place in Vilnius – including the re-development of Taxi Park, the Soviet-era home of the city's taxi fleet – into commercial real estate for airlines and automobile manufacturers, and Cyber Park (Nord's sprawling campus).
Valdas Benkunskas, Mayor of Vilnius, commented: "Vilnius is maintaining a firm position within the European tech scene thanks to rapid innovations and visionary businesses such as Tech Zity. Bursting with innovative entrepreneurs, multinational talents, and ambitious investors, the capital has grown to a modern tech hub that evokes bold ideas, successful collaborations, and people-focused solutions. Tech Zity's newest tech campus is a testament to the capital's forward-thinking values."
Darius Žakaitis, Founder of Tech Zity, commented: "I started investing in the Vilnius tech ecosystem in 2009 – when you could recall the name of every tech worker in the city on first name terms, and you could fit the entire tech ecosystem in one room. Now the city is home to some of Europe's best known tech firms – and we're growing at a pace that requires significant investment in real estate infrastructure. Tech Zity is a first-of-its-kind project – in both ambition, being 30% larger than any tech campus developed previously in Europe, and in infrastructure terms – being the first to bring in every aspect of real estate that any technology business, from a pre-seed startup, through to the likes of Google, can call their home in Vilnius."
Mantas Mikuckas, Founder and COO, Vinted, commented: "I am proud to partner with Darius and Tech Zity on this exciting infrastructure project, which will cement Vilnius's place on the map as the best place to start a digital business in Europe. For Vinted, Vilnius has been the ideal city to grow our marketplace business from – from startup through to unicorn. Far from expanding out of Lithuania as we reach this point, we're doubling down – we've since built our own campus on 'Unicorn' Street, and will continue to expand globally with Vilnius at the heart of our operations."
Inga Romanovskienė, General Manager of Go Vilnius commented: "Vilnius' TechFusion encompasses biotechnologies, fintech, IT, and laser sectors, uniting industry players with ambitious plans for our city's future. The ecosystem has been shaped by bold-thinking minds, the exchange of good practices and ideas, and long-term solutions that benefit both the talents within it and the city. Tech Zity's innovative move will decidedly propel the expansion of Vilnius' TechFusion and invite talents from all over the globe."
READ MORE: